Birth | Week 1 | Week 2 | Week 3 | Week 4 | Week 5 | Week 6 | Week 7 | Week 8

Read the whole story from birth through to when the puppies left for their new homes. We hope the information on these pages will help other people who are looking to breed their own animals. We gave our puppies names to make it easier to identify them and we couldn't have asked for a better litter of little pups, the whole experience was wonderful.

Three girls and two boys. Born on the 26th October. The mother of the pups is Poppy, our two year old pedigree Bichon Frise, her mate was a very carefully selected Pedigree Bichon who was a very handsome, strong, well built dog that has a wonderful temperament.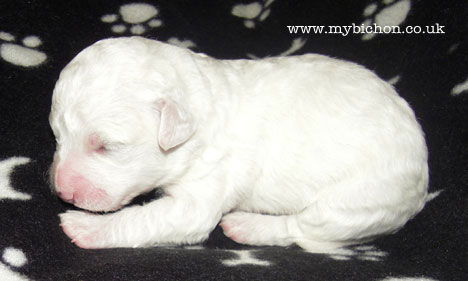 THIS WAS LOLA - Girl - The First Born
She will always be special as she was the first to be born and has a little wavy coat. It was so wonderful to see how Poppy immediately took up the challenge of being a mum with her first sibling.
Distinguishing marks: Waviest coat / Little black spot on nose

To see how Lola changed over the first eight weeks CLICK HERE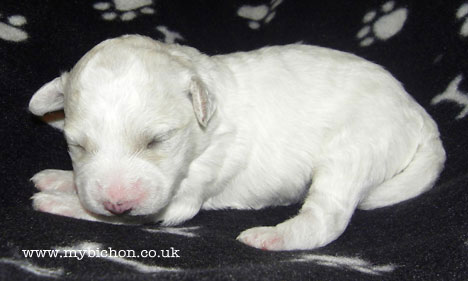 THIS WAS MELODY - Girl - Second Born
The second puppy to be born, about 15 minutes after Lola, almost as if she appeared without our Bitch even noticing! she was a very easy birth and quick to start feeding.
Distinguishing marks: Patch on head / Black patch left of mouth

To see how Melody changed over the first eight weeks CLICK HERE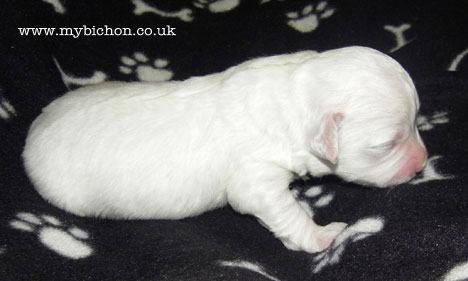 THIS WAS OTIS - Boy - Third Born
A strong little fella who is always in the middle of any puppy pile up! He makes a great climbing frame too, for all the other puppies.
Distinguishing marks: Ridge of hair down back / very pink nose.

To see how Otis changed over the first eight weeks CLICK HERE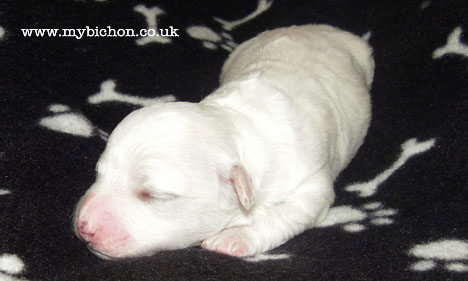 THIS WAS LITTLE POP - Girl - Fourth Born
Second to last but at the time we thought she was the last.The smallest girl but very strong and looks as if she could be the first to open her eyes.
Distinguishing marks: Smallest girl / two little dots on nose.

To see how Little Pop changed over the first eight weeks CLICK HERE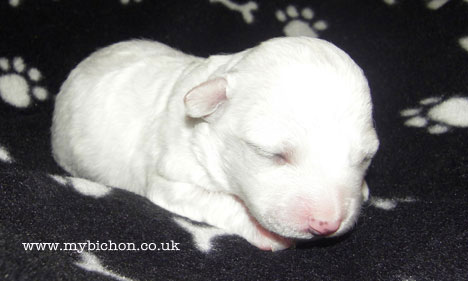 THIS WAS JASPER - Boy - Last Born
He is the smallest (which makes him officially the cutest) of the litter, but he sticks up for himself very well and gives as good as he gets! He was a wonderful surprise when he arrived.
Distinguishing marks: Smallest boy / Dark patch right side mouth.

To see how Jasper changed over the first eight weeks CLICK HERE