Atlantic Torpedo Ray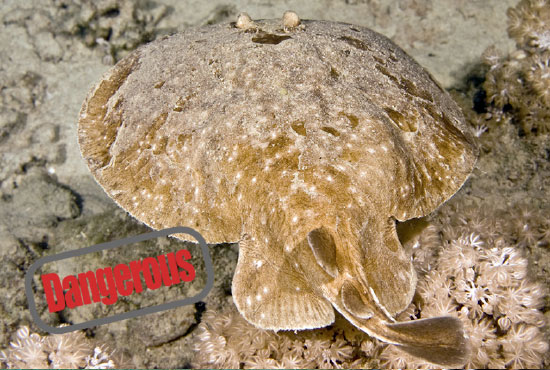 The Atlantic Torpedo Ray is mostly found living along the coastline in Canada, America, South Africa and the UK, but have also occasionally been seen in open oceans. It can produce its own electricity which it stores in its own kidney shaped organs, which is very similar to a battery.
They will bury themselves in the sand and only come out at night time when they start to feed. When they come across their prey they will use the stored electricity to shock and stun the victim before guiding the food to their mouth which is found on the underside of the body.
They can produce a shock equivalent to around 220 volts which is very dangerous to humans as well as sea creatures. They rarely release such large voltages though and much lower shocks are capable of stunning their victims or careless diver that accidentally stands on one.
The electric shocks will also protect them by warding off predators looking for an easy meal. It can grow up to 6 feet long and weigh upwards of 200 pounds.
Dangerous Fact:
The electric shock from an Atlantic Torpedo Ray is very painful and easily capable of stunning a human. When hunting they will wrap their wings around their victim before stunning them.

Why not also download our book 'The Most Dangerous Creatures in the Ocean' which is available now. CLICK HERE TO PURCHASE IT'S ONLY 77p