Tiger Shark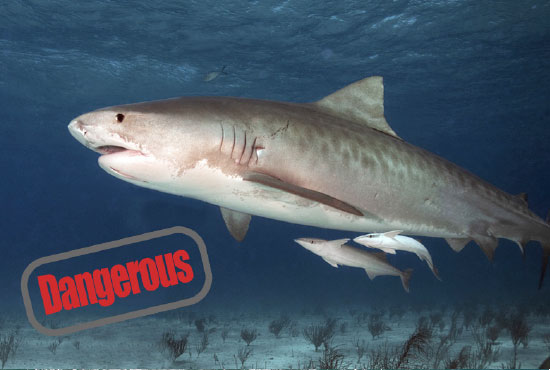 The Tiger Shark is the second most dangerous shark in the world, a very agressive creature that is responsible for many attacks on humans each year.
They are very successful hunters but also known to be scavengers too. Similar to the Great White they have highly developed senses, large serrated teeth and very strong jaws which are powerful enough to crack open the shell of a turtle, which is one of their favorite foods. Other creatures on the Tiger Shark's menu are sting rays, birds, sea snakes and squid. There is virtually nothing that a Tiger Shark would not eat, and they are known as the waste baskets of the sea by some people.
They live in tropical waters and can grow as large as 25 feet, that's 7.5 metres long. They can live up to 50 years. They get their name from the tiger like stripes that run along the length of their bodies, although these tend to disappear as the shark gets older. They are often found in shallow waters which makes contact with humans inevitable. They are solitary creatures and mostly hunt at night.
A Tiger Shark can give birth to up to 80 babies (called pups) and as soon as they are born they will have to fend for themselves. The mothers have no maternal bond with any of their offspring.
Dangerous Fact:
The Tiger Shark is responsible for the second most recorded attacks on people, but unlike the Great White, who will usually retreat after they realise you are human, they will not stop in their persuit of a kill.

Why not also download our book 'The Most Dangerous Creatures in the Ocean' which is available now. CLICK HERE TO PURCHASE IT'S ONLY 77p