Textile Cone Snail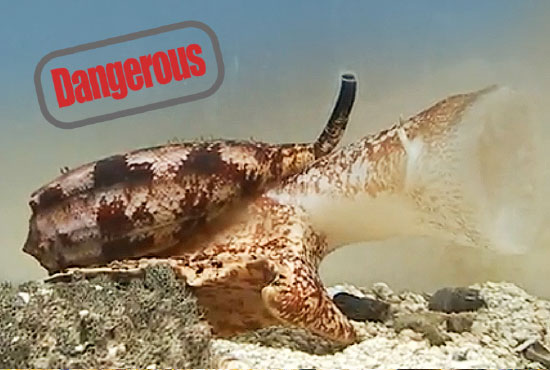 The Textile Cone Snail is one of the most venomous creatures in the sea, in fact it produces some of the most toxic substances known to man, and their sting contains enough venom to kill up to 20 humans! There is no anti venom and a sting from this scary creature could kill you within a few minutes.
Although they move very slowly they are in fact very active and successful hunters. One of the most unique features of the Cone Snail is the harpoon they use to spear their food, which is actually a large tooth with a venomous barb inside it. They can easily catch fast swimming fish due to the accuracy and speed of their shot, and their venom paralyzes their victim instantly. The barbs on its harpoon locks on to the fish and allows the snail to reel it in. They have a vacuum like mouth which easily ingests their food whole once caught.
They do not attack humans purposely and the majority of human related deaths are due to people accidentally standing on them, or picking them up on the beach. They have beautiful shells and people will pick them up not realising they contain one of the worlds most poisonous creatures. They can be found in the tropical oceans of the world and grow to about 6 inches long. There are over 500 different species of cone snail, and they come in many different sizes, the larger species are the ones that are the deadliest.
Dangerous Fact:
As there is no anti venom for a cone snail sting your only hope of survival, if you are stung by one, is for the medics to keep you alive long enough for the toxins to wear off.

Why not also download our book 'The Most Dangerous Creatures in the Ocean' which is available now. CLICK HERE TO PURCHASE IT'S ONLY 77p