Stone Fish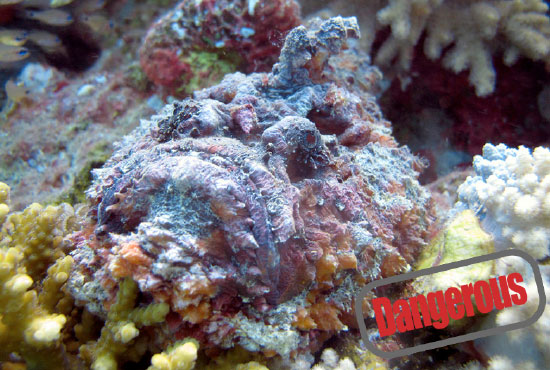 The Stone Fish is the most venomous fish in the world. It has 13 jagged spines running down the length of its back. These venomous spikes are very sharp and can easily piece through the sole of a shoe.

They are about 35cm long, very sluggish and spend most of their time on the bottom of the ocean floor. If you get stung by a stone fish you will need to get urgent medical treatment. They have large heads and small eyes and are sometimes referred to as Goblin Fish or Warty Ghoul fish, because, as you can see, they are not the prettiest fish in the ocean.
They are very well camouflaged, among rocks and coral reefs, which is their preferred habitat, and often partially bury themselves in the sand waiting for the next meal to pass by. It would be very unusual for one to attack a human, but they are sometimes stood on by people venturing too far from sandy shores.
If you were unlucky enough to step on one it would raise up its spikes but keep its body firmly in position on the sea floor in order to give the spikes extra strength. The stone fish will eat most other fish that are smaller than itself as well as shrimps and small crustaceans. They strike at their prey with incredible speed and swallow their food whole. The attack is so fast the victim wouldn't know anything about it until it was trapped inside its mouth.
Dangerous Fact:
The Stone Fish is the most venomous fish in the world and its sting is easily capable of killing a human being. They are very hard to spot beause they blend in to their surroundings so well.

Why not also download our book 'The Most Dangerous Creatures in the Ocean' which is available now. CLICK HERE TO PURCHASE IT'S ONLY 77p