Sea Snake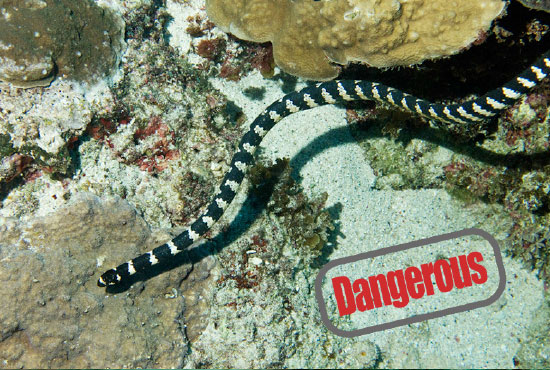 The Sea Snake is related to the cobra and has adapted to life in the sea just as well as its counterpart has on land. They have modified their lungs which helps them to maintain buoyancy and remain underwater for longer periods of time. They have flattened tails that help them to swim.

They still need to breath air to survive so you will usually find them in shallow waters were they will feed on fish, eels and fish eggs. Sea snakes are mostly found in Asia and Australia and there are many different species. If you are bitten by a sea snake you will not feel the bite immediately, and only realise you have been bitten around an hour later when the symptoms start to appear, which include stiffness, spasms of the jaw, aches and pains and severe pain in the area of the limb where the snake bit you.

It will also cause blurred vision, sleepiness and breathing problems. Their bite can be treated with an anti venom and although quite serious, a bite from a sea snake will not usually be fatal. Sea snakes are small and shy creatures that, like most of the other creatures in this book, will only attack if they are threatened or startled.
Dangerous Fact:
There are about 50 species of Sea Snakes throughout the world and most of them are highly dangerous. They have a similar type of venom to snakes that live on the land, only much more potent.

Why not also download our book 'The Most Dangerous Creatures in the Ocean' which is available now. CLICK HERE TO PURCHASE IT'S ONLY 77p