Scorpion Fish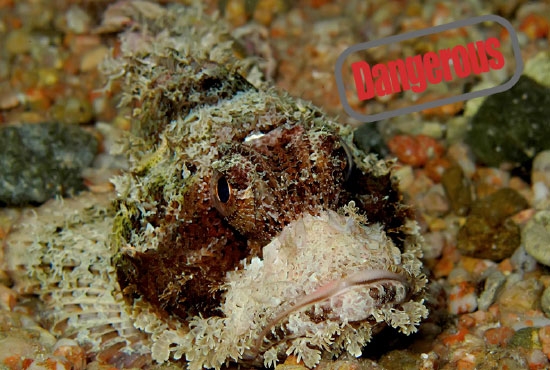 The Scorpion Fish is in the same family as the Stone Fish and can be found in the tropical waters off the coast of America as well as the Indian and South Pacific Oceans. They have very sharp prickly fins covering their bodies that contain a very poisonous venom. A sting from one of these fish would cause unbearable pain and medical attention should be sought immediately.
They live among the coral reefs and prefer shallow waters. They will usually rest during the day and come out to feed at night. The spikes are never used to sting or stun their prey, as they only use them for self defence, they prefer to hide in small crevices and ambush their prey when they venture close enough for a strike. Their main diet consists of small fish and crustaceans that inhabit the coral reefs.
Scorpion fish can lay up to 15,000 eggs at one time and the eggs will hatch within two days, remaining near the surface until they are large enough to swim down to the safety of the ocean floor. Although very vunerable at this early stage of life, when they are adults, they will have few natural predators. There are 300 species of scorpion fish throughout the world and some can grow as large as 17 inches long. They are experts at blending into their surroundings and they are often mistaken for rocks by careless divers.
Dangerous Fact:
A scorpion fish sting causes intense pain and swelling at the site of the sting. Swelling can spread to affect an entire arm or leg within minutes.

Why not also download our book 'The Most Dangerous Creatures in the Ocean' which is available now. CLICK HERE TO PURCHASE IT'S ONLY 77p