Salt Water Crocodile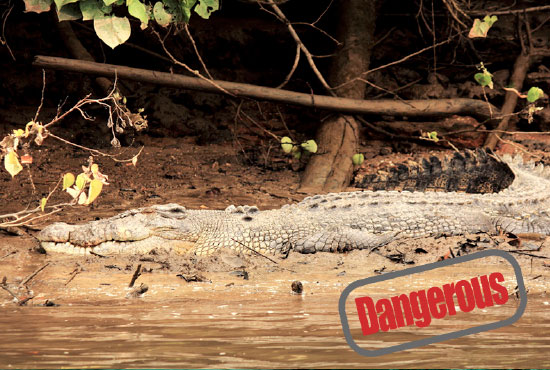 The Salt Water Crocodile, which can be found on the northern coast of Australia and south east Asia, is the worlds largest reptile. They have been recorded to grow as large as 10 meters long. They are aggressive and very dangerous and will eat almost anything they can kill, including humans.

The females can lay around 60 eggs at a time and depending on how warm or cool the nesting area is, will be the deciding factor of whether the babies will be male or female. Once hatched the mother will watch over them until they can look after themselves, but only a lucky few will survive long enough into adulthood. They have huge jaws which contain around 68 teeth and the fourth tooth in the bottom jaw is larger than all the rest and can be seen when the mouth is closed, which makes them easy to recognise.Their heavy jaws can exert pressure of several tons and they have no trouble crushing the bones of their victims.

Although they are known as Saltwater Crocodiles they are also happy to live in freshwater rivers and swamps too. They are very territorial creatures and will defend their territories with extreme force. An average lifespan of these ferocious creatures is around 70 years.
Dangerous Fact:
The Saltwater Crocodile has the strongest bite of any animal in the world today. The teeth are designed to hold on to their pray rather than chew and they will roll their bodies to tear their food into easily managable pieces that they swallow whole.

Why not also download our book 'The Most Dangerous Creatures in the Ocean' which is available now. CLICK HERE TO PURCHASE IT'S ONLY 77p