Puffer Fish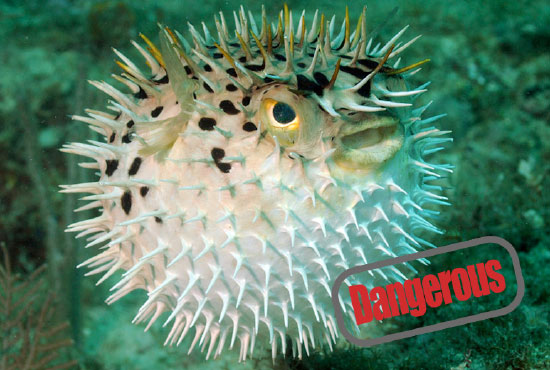 The Puffer Fish, which is also referred to as the blowfish, has developed an ability to inflate itself, whenever it feels threatened. As they are very slow movers they are vulnerable to being attacked while swimming in open waters. To protect themselves they will inflate their bodies by ingesting large amounts of seawater into their extremely elastic stomachs, which increases their body mass many times its original size. This ensures it is virtually inedible to most of its predators, because it is so large.
Some species of Puffer Fish can grow up to 2 feet long. Even if a predator manages to catch a one before it has a chance to inflate itself, the foul tasting and lethal toxins it releases will soon have them regretting their decision, and few would survive the experience, except for the Tiger Shark and some sea snakes, which are not bothered by their toxins.
The toxins in a Puffer Fish (called Testrodotoxin) is also very deadly to humans. One pufferfish contains enough toxin to kill 30 adults. If you are unlucky enough to encounter one you should keep well clear, as there is no know antidote. They do not sting though and you would only be affected if you were to eat one.

They look very scary when they're inflated and their appearance gives out a very clear message to leave well alone.
Dangerous Fact:
The Puffer Fish is thought of as quite a delicacy in Japan, but they are so toxic that if they are not prepared correctly the flesh would kill you, in fact, many people do still die each year after eating one.

Why not also download our book 'The Most Dangerous Creatures in the Ocean' which is available now. CLICK HERE TO PURCHASE IT'S ONLY 77p