Moray Eel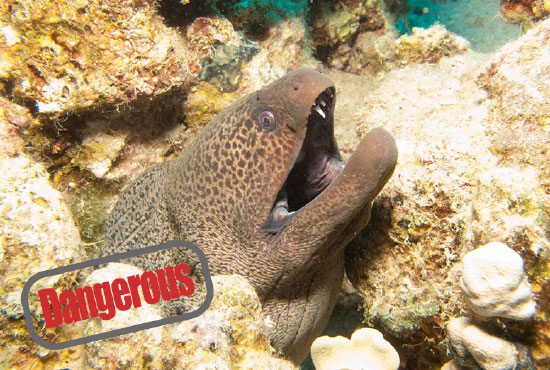 The Moray Eel is a snake like fish with a scaleless body and is known to be very aggressive and dangerous if threatened. The Giant Moray Eel can grow up to 3 metres long. It has a very large head with razor sharp teeth. Although not toxic the bite can be very nasty, which is sometimes made worse because they victim will instinctively 'pull back' from a bite and inflict more damage to themselves. Moray Eels have been known to bite fingers and thumbs clean off.

They live in tropical waters and prefer to hide out in coral beds and rocky crevices. They are mostly night hunters and will feed on passing fish, squid, octopus and crab. They do have predators though which are mostly other Moray Eels and sometimes barracuda (another dangerous fish in it's own right).
There are over 200 species of Moray Eels, from very small ones about 10cm in length to the Giant Moray which can measure up to 10 feet in length. The females can produce up to 10,000 eggs and it takes over a year for a baby Moray Eel to be strong enough to swim to the ocean floor to safety, so very few of them survive to be adults.
Dangerous Fact:
Moray Eel attacks on humans are rare and if you were attacked it would usually be because they had mistakenly thought your hand or foot was a tasty fish, or felt threatened by you being so close. They are known to have poor eyesight.

Why not also download our book 'The Most Dangerous Creatures in the Ocean' which is available now. CLICK HERE TO PURCHASE IT'S ONLY 77p