Great White Shark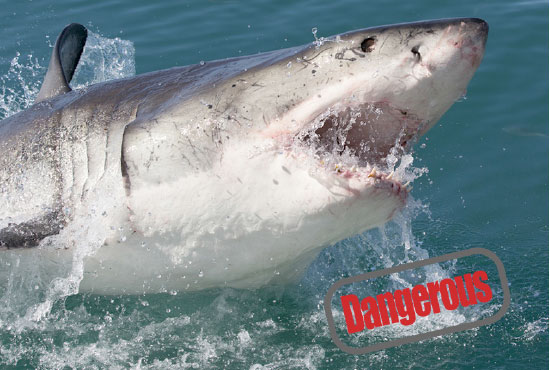 Did you know that sharks were around long before the dinosaurs? Over 400 million years of evolution has created the world's most effective, awesome hunter. Great White Sharks have highly developed senses which include smell, hearing, sight and touch. These senses are so effective that a great white could detect a small drop of blood in an Olympic sized swimming pool simply by using its very sensitive nasal cavity.

They can travel up to 35 miles an hour due to their torpedo shaped body and smooth skin and they are highly inquisitive creatures that are known to travel great distances. 300 serrated teeth fill their mouth at any one time and thousands of teeth are produced throughout their lifetime. If a tooth is damaged a new one moves into its place within a few days. Their jaws have a very unique feature which enables them to detach the upper part from their skull to get a better grip on their prey.

Although they look nothing more than mean killing machines, they are actually very intelligent creatures and can often be seen working together in groups when hunting. They do attack humans too, but it is widely thought that this is often due to mistaken identity, they would much rather prefer a seal or a turtle for their lunch than you or I.
Dangerous Fact:
If a Great White attacks you it will usually retreat after the first bite because it realises that you have too many bones in your body to make a tasty meal. But unfortunately, as they are so large and powerful, the wound would be so severe that you would probably bleed to death before medical help arrived.

Why not also download our book 'The Most Dangerous Creatures in the Ocean' which is available now. CLICK HERE TO PURCHASE IT'S ONLY 77p