Bull Shark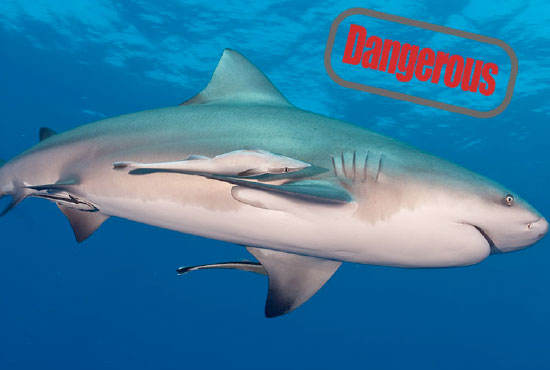 The Bull Shark is a very formidable, powerful predator which enjoys a reputation as being one of the most feared sharks in the ocean. One of the main reasons they are considered to be the most dangerous sharks in the world is simply due to the fact that they like to inhabit highly populated shorelines where contact with humans is inevitable and frequent. Bull Sharks can be found in most of the warm oceans around the world.

Although they prefer to live along shoreline they can also be found in fresh water rivers too. They have short blunt noses and stocky, powerful bodies and enjoy nothing more than a good confrontation, when they come across their prey they will often head but them before going in for the kill.

Life expectancy is around 16 years in the wild and they can grow up to a length of around 3.5 metres. They will eat most things they come across which includes other sharks as well as fish and even dolphins. They are a medium sized shark and are very quick, agile hunters with very sharp serrated teeth. Similar to the Great White, if a tooth is damaged or gets worn down a new one will move into it's place. Bull sharks give birth to live young and would give birth to anything from 1 to 13 pups at any one time.

Unfortunately, they are hunted for their meat, hides and oils, although this has, not currently threatened their population, and they are not considered to be an endangered species.

Dangerous Fact:
Bull Sharks are responsible for the third most reported attacks on humans and because they can live in both saltwater and fresh water, they are more likely than most other sharks to come in to contact with us in our typical daily lives.

Why not also download our book 'The Most Dangerous Creatures in the Ocean' which is available now. CLICK HERE TO PURCHASE IT'S ONLY 77p