Box Jellyfish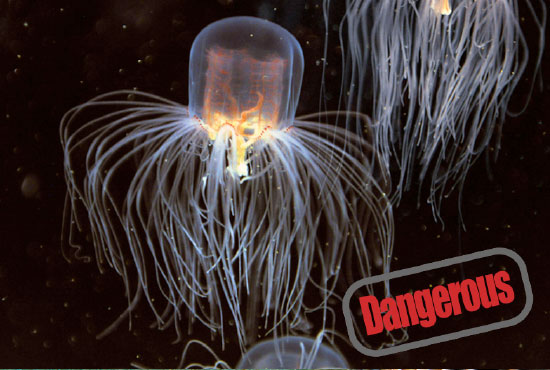 The very dangerous Box Jellyfish can be found in and around the Australian coastline. It is one of the most dreaded creatures of the oceans and has tentacles which contain extremely dangerous toxins.

If they come into contact with human skin they can cause all sorts of problems including breathing problems, within only 3 minutes of being stung. They are responsible for more deaths in Australia than sharks and crocodiles.
They have box shaped bodies, which is where their name comes from, and tentacles which can stretch up to 80cm in length. They have about 5000 stinging tentacles and you only need to come into contact with about three tentacles to cause severe problems to your health.
They are very difficult to spot in the ocean, due to their transparent appearance, which is one of the reasons so many people are stung by them each year. The Box Jellyfish weighs around 2kg. They eat small fish and shrimps as well as plankton and small sea creatures which they catch and stun with their tentacles.

They may be very dangerous and feared by us humans, but if you were a turtle you would enjoy nothing more than a tasty Box Jellyfish meal.
Dangerous Fact:
The Box Jellyfish has been responsible for over 60 deaths in the last Hundred years. If you are stung by one the venom from the tentacles will immediately attack your nervous system and start to turn your tissue into soup.

Why not also download our book 'The Most Dangerous Creatures in the Ocean' which is available now. CLICK HERE TO PURCHASE IT'S ONLY 77p